Avenue Marnix 28 in 1000 Brussels
In the heart of the action,
in the centre of the city!
The office building on 6 floors with a total area of 3,000 m2 and located on the small ring road in Brussels opposite the Place du Trône. The building enjoys exceptional visibility and is served by an excellent public transport network. The 6th floor benefits from a magnificent terrace and gallery with a superb view of the Royal Palace and its park. This building respects the environment and uses cutting edge technology for power management.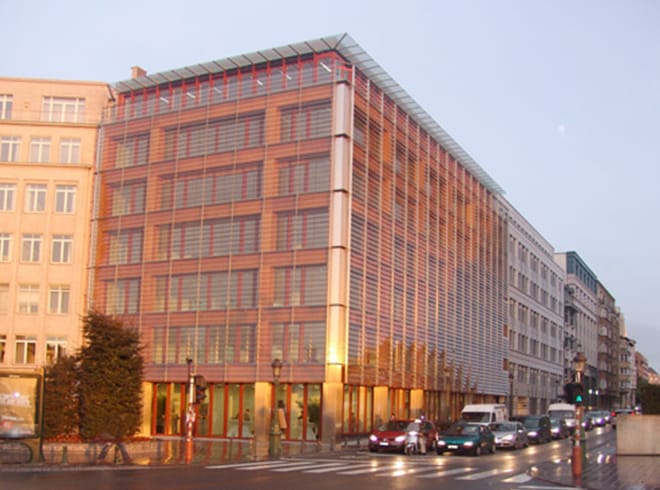 | Floor | Area | Availability |
| --- | --- | --- |
| Ground floor | 143 m2 | |
| 1st floor | 403 m2 | |
| 2nd floor | 478 m2 | |
| 3rd floor | 478 m2 | |
| 4th floor | 478 m2 | |
| 5th floor | 478 m2 | |
| 6th floor | 487 m2 | 305 m2 |
| 1st underground level | 13 parking spaces | |
| Basement available | | |
*The surfaces include the entrance hall.
Year of construction: 1961; major renovation in 2009.
The building is designed to allow the autonomous use or combined use with the adjoining building on the rue du Trône 4 which doubles its useful area if necessary.
Glazed street-side façades equipped with external blinds; the arrangement of the offices at the sides with a central core that holds the lift shafts and the stairwell; Opening wooden frames with double-glazing; Adjustment of the windows: 0.90 and 1.80 metres. These adjustments allow both closed offices and open plan spaces as required.
Suspended ceilings with acoustic metallic panels. Raised floors covered in parquet, which allow structured networks on each level thanks to the floor boxes.
Heating (turbofan), ventilation and cooling of the office floors by means of active beams equipped with hot and cold units that allow great flexibility, in the operation and distribution in the floor levels.
The conference rooms on the ground floor also have autonomy and great flexibility of use.
Lifts: a goods lift (1,000 kg) and a lift (630 kg) serve all floors.
Access control system and general fire detection.
The "Trône" metro station is very near.